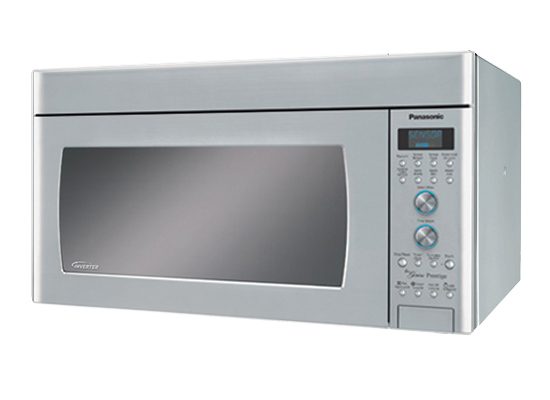 The choice of an OTR microwave should not be taken lightly. These appliances are in the most hostile places in the kitchen and subject to extremes of heat and humidity, often while being in use. A poorly engineered oven that doesn't last very long in a permanent installation is not a great move, especially if its primary function as a range hood exhaust fan can't perform.
Followers of this blog are aware that we recently renovated our kitchen. They also know that we own mainly Samsung appliances, including our range, refrigerator, dishwasher, washing machine and dryer. So it may seem a bit odd, given our preference for Samsung, that we went with Panasonic.
Since we decided to go with an OTR (Over the Range) microwave in our kitchen design in order to maximize space, choosing the right appliance took on new importance. Basically this is not a microwave, but a range hood that happens to do double duty as a microwave. Any OTR microwave must be an excellent range hood first and having good microwave performance is just a bonus. To put it another way, microwave ovens have become commodity items used mainly to reheat food and make the occassional bag of popcorn, something that even a basic $50 tabletop could handle no problem.
Basing our criteria on ventilation power, we were quite surprised to learn that only 2 manufacturers, Samsung and Panasonic, met our minimum requirement of 400 cubic feet per minute. We thought this was going to be a no-brainer: A Samsung OTR microwave would give us the fan performance we wanted, and it would match our other appliances. We went off on a tour of the usual appliance retailers in search of the higher-end model SMH8187 (SMH8187STG) to see what it looked like.
We were actually very disappointed, mainly because the unit did not harmonize very well at all with Samsung's other appliances. This was most apparent in the rather cheap looking membrane touch panel, whereby the Samsung range and dishwasher both have smooth glass touch controls. Build quality was nothing to write home about either: about on par with any commodity microwave. Just the same, I did my research about Samsung OTR microwaves in general, and I did not like what I found: lots of issues with reliability and durability, with some people reporting exhaust fan and electronic failures under daily use in a scant 8-9 months.
We had no qualms about going with Panasonic. Our very first microwave was a huge Panasonic Genius that we bought for nearly $800 in 1985. This was a great performer that saw daily use until 2002. We gave it away when we sold our condo and would not be surprised to learn that it is still faithfully chugging along. After looking at the available OTR models, we settled on the top-end NN-SD297 mainly due to its beautiful all-metal design with a partially mirrored glass door, and its huge 2.0 cu. ft. capacity. After shopping around over the summer (we were in no rush as the reno was to start in September) we negotiated a 15% discount and 24 months no payment at the Bay and took delivery. We had the microwave professionally installed by the renovation team's electrician, and have been using it for about 2 months.
So far, we are extremely satisfied with this unit. Its primary function as a range hood has been more than adequate
in terms of power and noise. This unit has twin "squirrel cage" fans like the type you find in most car ventilation systems, which are relatively quiet given the amount of air they can push.
After comparing with other OTR microwaves, we are convinced that most manufacturers either over-rate their fan performance or Panasonic under-rates. This microwave seems to be pushing a lot more air than its 420 CFM rating. The only thing we find odd is that there are 3 sets of buttons for the exhaust fan. Two buttons control fan speed (one for "Super" and "Turbo" and one for "High-Low-Off") and one controls an auto-off timer. I fail to see why a single fan speed control wouldn't be better, as there are only 4 speeds. The true test of the effectiveness of the exhaust fan came when using my son's rather tall boil kettle (30 qt capacity) used for brewing beer. This generates a lot of steam very close to the range hood. This did create quite a bit of condensation on the door and underneath, but the fan actually picked most of it up.
This appliance has not failed to disappoint as a microwave, either. First, it is very user-friendly. Since microwave controls are generally a multistep process (time, power, start) it can often be confusing what goes first (was that time first, then power? or set the power level then the time?). The Panasonic makes this much simpler by putting primary functions on top with buttons, and menu choices done underneath with rotary knobs. The oven even prompts by lighting up the next option! For example, when you press the power level button, the Time/Weight knob flashes, and once you set that, the Start button flashes. This is a bit hard to describe, but in use it is very logical and even gratifying to use.
In terms of features, we had previous experience with Panasonic's Genius sensor cook technology, and it works quite well. This is a humidity sensor that when triggered, determines the remaining time depending on what program was selected and how long it took to trigger the sensor. With our old microwave, we would use perhaps 3 or 4 of the 20 available programs mainly for reheating food and cooking fresh and frozen vegetables in a very consistent way regardless of quantity.
Things have been much simplified in 25 years. We have tried about 7 of the 15 available programs and have been very impressed with the results. We are also quite amazed at the Inverter Defrost function, which does an excellent job of defrosting just about everything we have thrown at it (except bacon...which no matter what will cook around the edges). The Sensor reheat has taken all the guesswork out of warming leftovers.
One thing we have not mastered are some of the more advanced programming functions that involve multiple steps. With this oven, you can set a 4 stage cooking program that can include a combination of multiple power levels, delay start and stand times.
On the downside, there are a few annoyances. First the 2-level hood light is a great idea, but the nightlight is much too dim. The other is that setting the cook time with the knob is a bit hard to get used to due to a feature that accellerates the faster you turn the knob. It either increments the time too slow or too fast, and finding the right time usually involves going back and forth somewhat.
In conclusion, we are very pleased with this microwave and are beginning to get more use out of it with its advanced functionality. This is mainly that the sensor and inverter defrost actually work as advertised. It is also an excellent range hood. We have no hesitation in recommending Panasonic OTR microwaves. Our only real complaint is that some of the more advanced features of the Dimension 4 (convection) are not included in any of Panasonic OTR offerings.